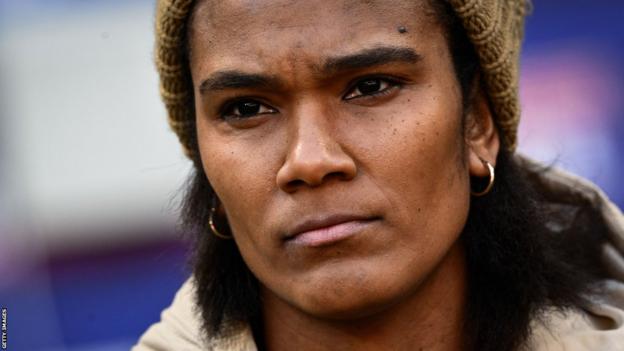 Corinne Deacon was sacked from her position as coach of the France team four months before the World Cup.
Renard released a statement criticizing the French "system" and was joined by teammates Marie-Antoinette Katoto and Kadidiatou Diani in a boycott.
The FFF announced the release of Deacon and said the situation was "irreversible".
On Wednesday, Deacon had sworn to continue and denounced what she described as a "smear campaign" against her.
"I am determined to carry out my mission and, above all, to make France proud at the next World Cup," she said.
In its statement, the FFF said a four-person commission had been appointed to review the functioning of the women's national team following criticism from Renard and her teammates.
They said the committee had "established the finding of a very significant cleavage between the players" and added that the divide had "reached a point of no return which harms the interests of the team".
"It appears that the dysfunctions observed seem, in this context, irreversible", reads the press release.
"In view of these elements, it was decided to end the role of Corinne Deacon at the head of the French women's team."
The commission will also be responsible for selecting a new head coach for France ahead of the 2023 Women's World Cup, which kicks off in Australia and New Zealand on July 20.
France are in Group F alongside Brazil, Jamaica and Panama.
The FFF statement also blames Renard and the players for expressing their dissatisfaction with Deacon on social media and for announcing their boycott of the international team through their personal accounts.
"The committee also noted that the manner used by the players to express their criticism was no longer acceptable in the future," the statement read.
Renard, who made 142 appearances for the France national team, said on social media that she was taking a step back from the team "to preserve my sanity".
His teammates Diani and Katoto later announced that they would no longer play for France. Diani said the team's 'management' was a reason behind the decision.
Under Deacon, France failed to reach a major final and lost to Germany in the semi-finals of Euro 2022.