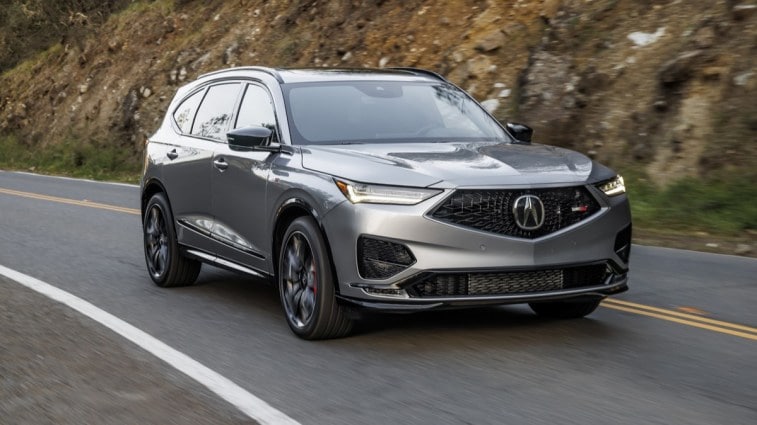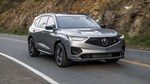 The realm of 3-row luxury SUVs is surprisingly deep, without a single star to shame the pack. But the Acura MDX is perhaps the most surprising vehicle in the segment.
Of course, it's high tech. Of course, it's comfortable. And of course, it's fun to drive. But you expect these things from a luxury vehicle. What you don't expect is such an affordable price. The MDX starts at $49,550. Last month, the average new car in America sold for just over $48,000.
The MDX is an athletic, attractive luxury vehicle with three rows of seating for a little more than the price of an average new car. It's breathtaking.
The MDX isn't brand new for 2023, but it might as well be. It was redesigned from the wheels up for the 2022 model year, so it only took a few modest tweaks to keep it among the newest options in its class.
Acura builds the MDX with a 290-hp 3.5-liter V6 or a 355-hp 3.0-liter turbocharged V6. Power goes through a 10-speed automatic transmission. Front-wheel drive is standard, and Acura's excellent Super Handling All-Wheel Drive (SH-AWD) system is also available.
Let's take a look inside the MDX 2023: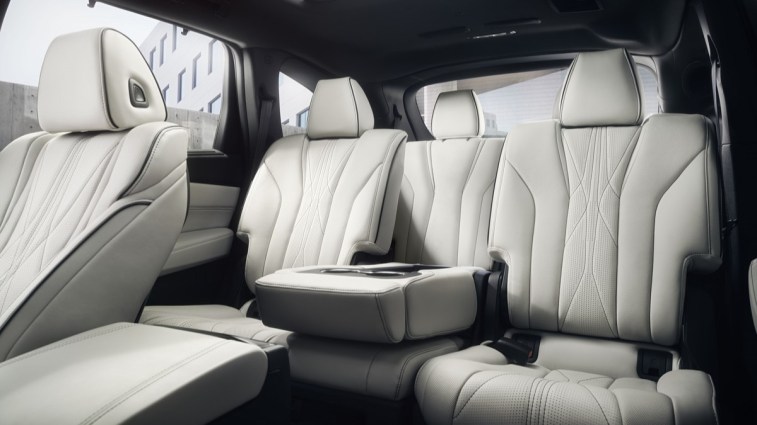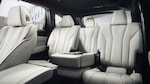 Passenger space and comfort
Climb into the MDX and you will first notice the space. Our test rider wrote, "The appeal is wide, the flair is deep, and the cabin is wide."
Headroom and legroom measurements are typical for the class. You get more headroom in the first and third rows than in a Lexus GX and more legroom in the first and second rows than in a BMX X5.
But the shoulder and hip room dimensions are class leading. It has a psychological effect – you feel like you can expand into the MDX. It's good.
Our test rider found the driver's seat "wonderfully comfortable and supportive." Most trim levels feature 12-way power seats with power lumbar support. Advance models, the highest trim level, feature 16-way adjustable seats with thigh extensions and side bolsters.
Every trim level gets heated front seats; on most they are also ventilated. Even the second-row rear outboard seats are equipped with heated seats in the MDX Advance.
Third-row accommodations are cramped for adults, but that's to be expected with midsize SUVs. But the MDX's third row is usable — the second-row middle seat is removable, making rear access easier.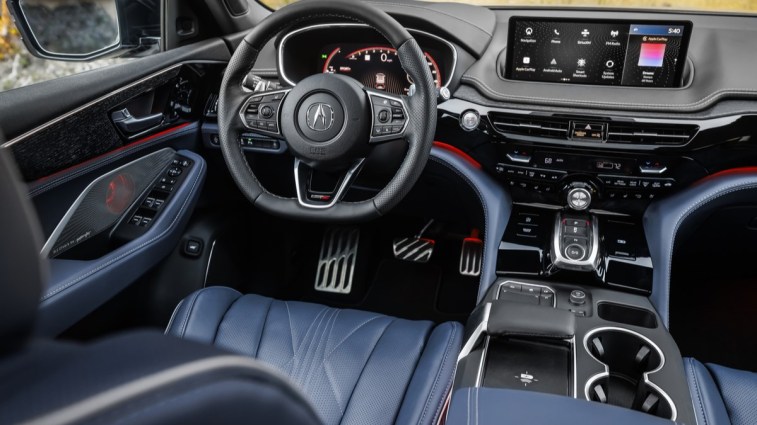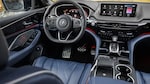 Features and technology
The latest design trend in luxury cars is absolute minimalism. The MDX, thankfully, rejected the idea.
Some competitors place everything from stereo settings to seat positions behind touchscreen menus. This makes simple adjustments a complex process. The MDX, however, is full of old-school buttons and switches. That's wonderful. You don't have to look away from the road to change the temperature.
Speaking of temperature, every trim level gets 3-zone automatic climate control. For many trim levels it is linked to GPS, adjusting to the angle of the sun.
That doesn't mean it lacks technology. Instead, it's packed with carefully integrated technologies. The driver has a 12.3-inch digital screen that they can configure to display the information they prefer, and on Advance models a head-up display projects detailed instructions directly in their line of sight.
A 12.3-inch center display, still controlled with a touchpad on the center console, is a bit wonky. But Apple CarPlay and Android Auto are standard, as is Amazon's Alexa Built-in. So you can accomplish many tasks with voice commands and steering wheel mounted controls.
Acura cares about the audio experience in its cars. Buyers can choose from 9, 12, 16 or 25 speakers depending on the trim level. The latter three are courtesy of Grammy-winning studio engineer Elliot Scheiner, who tuned the systems to sound direct from all seating positions.
But the MDX doesn't just have great tech. Thoughtful little touches abound, like the charging ports available for all three rows.
Our favorite tech, however, might be the Walk Away Close system. If you walk away from the open tailgate with the key, it will close by itself. It's great for those of us who have to do all the shopping at once.
Materials and design
Acura designers have done a great job updating the MDX's cabin with the best ideas new and old. The central screen is placed high up, so that the driver can consult it without looking from the road. But many functions get real buttons and dials – a security feature in 2023.
Most luxury automakers have moved away from leather in base car models in favor of simulated stuff that wears well over time but, sometimes, doesn't look like the real thing. Only the base model of the MDX has it, however. All other trim levels are Genuine and are perforated for breathability.
The company also allows you to get creative. Leather color choices include the usual black but also Azurite Blue, Bright Red and Orchid, a lovely white hue that accentuates the space mentioned above.
Cargo space and flexibility
The MDX has one of the largest loading capacities in its class. Behind the third row seats, you get 18.1 cubic feet of space. Behind the second row, 48.4. You'll find a cavernous 95 cubic feet with all seats folded flat.
It is also a flexible space. Underfloor storage compartments hide items you don't want to take out of the car. The loading lid can be reversed – plastic side up for easy cleaning when transporting houseplants from the garden centre, carpet side up the rest of the time.
Configure and evaluate your version of the 2023 Acura MDX to see this week's Kelley Blue Book Fair purchase price, 5-year cost of ownership, and more, or Discover the Acura MDX models for sale near you.